<![if !vml]>

<![endif]>
You are always in my heart
No one could ever take your place
Even though we are apart
Separated by time and space
When I close my eyes to sleep
You come to me in my dreams
I feel your breath upon my cheek
You touch my very soul it seems
I wait for this special time of night
When we can meet in solitude
Away from worry and pain
We share our peaceful interlude.
Why can I see you only in my dreams
With your eyes so blue~ your face so sweet
I long for the special times we share
And feel blessed each time we meet
by
AurichWolf ~CareWolf~MuffinsWolf
November 18, 2005-2007




<![if !vml]>

<![endif]>
In the quiet of the night when I am all alone I dream of your sweet face.
There is a feeling of peace and contentment that transcends time and space
In my heart I feel you near me every night and can not wait to dream of time
we spent together
till you left me for that distant shore.
In dreams you are still here with me and time stands still for us
as we share those times once more
One day I know I will look upon your sweet face once more and I will smile.
Till then we share these dreams and I will linger for a while
There is a path I must still walk until it is that time for me to be with you once more.
On that sweet day I will join you on that distant shore
So come to me my love each night in dreams so real as you often do.
And know that one day I shall come to be with you.
AurichWolf~Katie
© February,2005-2007
Think of Me
Look up into the starry sky
You may sense me flying by
Look out on a summer day
You only think I've gone away.
I understood
when you whispered to me
I understood
You had to set me free
You were here with me
When I went away
Now I'm here with you
in everyway
I feel your tears when you cry
Silver and red on your cheeks dry
I'm the wishes in your dreams
Life isn't what it seems
I'm the brightest star in the sky
There is no need to wonder why
Think of all the fun we had
Think of all we were -you're my dad
Daddy think of me once in a while
Daddy think of me now and smile
Please
Daddy think of me now and smile
Written by CareWolf
© Edited November 18,2005-2007








<![if !vml]>

<![endif]>
Silent tears
Silent questions
Are you near?
Silent echoes
Never ending silence
In my Heart,
In my soul
Silent breaths
Silence all around,
Never ending...

Wait a faint sound
Whispers on the Breeze
Whispers of love
Gentle touches
Embrace my soul
Hold my heart safe
Warmth so close
Questions now answered
You are always near
only a heart beat away
Whispers in the breeze,
Say to me,
"I am here."

Jack3~MuffinsWolf
©Nov.17, 2005-2008




Happy Bridge Day Shi Shi
November 18, 2005





<![if !vml]><![endif]>

There were many tears shed for you,
Of that please have no doubt.
When the angels came and took you,
As you fought your final bout.

You just could not beat the monsters,
That you fought all your life.
God finally gave his call for you,
As you fought that final fight.

Three pain filled sets of tears fell,
While you lay there silently.
From the eyes that could be there,
Your Mommy, Dr. Pammy and me.

I wonder did you feel them fall,
On your pretty red red fur.
You were mommy's precious angel,
And daddies little blue eyed girl.

Please know little precious ShiShi,
Our tears did not fall alone.
For many many others felt,
To them also did you belong.

You heard my gently whispered words,
That your ears only could hear.
As I told you of the love shared,
While there dropped one lonely tear.

We saw your eyes rolled up to mommy,
Standing by your side above.
They seemed to plead with her,
Mommy please give me one more love.
I want one more hug and a final word,
From the precious one who loved me.
Before the Angels take me away,
And the monsters set me free.

So travel on your special Sojourn,
We hope you know you're not alone.
Parts of other hearts went with you,
The day the Angels took you home.

11/20/2003
by Daddy LoboWolf
& Mommy Shewolf

<![if !vml]><![endif]>

The Sequel To ShiShi

Hot stingers fill my eyes,
Putting tears upon my cheeks.
And glasses stained so badly,
That I can scarcely see.

I pen these words of love,
For a special one so dear.
Who fought with epilepsy,
And yet brought love and cheer.

You looked so helpless lying there,
Little precious blue eyed girl.
There were tears like blood red raindrops,
Glistening on your pretty red fur,

When others learned the angels came,
To take you to your well earned peace.
Words of comfort seemed to flow,
Like raindrops from the eaves.

From the angels who helped guard you,
Through out your valiant fight.
And all of PetLoss who love you,
And help speed you on your flight.

Yes precious blue eyed ShiShi,
For you were teardrops shed.
From the ones we know who care,
All across the worldwide web.

Many hearts they cared for you,
As you fought the whackadoos.
To many eyes the stingers came,
When the angels came for you.

11/21/2003
by Daddy LoboWolf
& Mommy SheWolf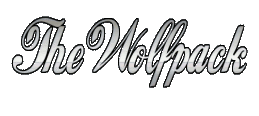 This page is dedicated to LoboWolf
~~Father of our WolfPack~~
~~SheWolf~~
and to
Pooky and ShiShi




Music is "My Heart Will Go On"
From Titanic
Performed by
Celine Dion
Page Work
by
WolfPack Productions Inc.